In a moving and inspirational keynote on day two of the 2023 Congress, which took a slight detour from its plenary theme of 'strengthening health system resilience' to throw the reliance spotlight on the individual, traumatic brain injury survivor Ben Clench shared his insights on the importance of engaging with patients and harnessing the local voice and action when designing and delivering hospitals, health facilities and services.
He described his initial experience of recovery from a month-long coma following devastating brain injuries sustained in a traffic accident while in the Dominican Republic. While in the country working with his girlfriend in international relations, a speeding car lost control and left the road. Owing to the injuries he sustained, he was not expected to walk, talk or learn again, but he has since defied all predictions. His short-term memory has been affected although it has improved over time, and he still has a tremor in his right hand. As he proclaimed to delegates: "The old Ben would not have been on this stage." He noted, too, that "when you forget everything about your life, you get to hear the best of who you were".
"A few months before my coma, the 2010 Iceland volcanic explosion disrupted lots of flights and stopped me from flying back to England to do a half-marathon. It's possible to become intimidated by the person you were, but I decided to become that person again from this hospital patient. I would fight to become the man they called Ben again. I would complete the half-marathon."
And his recovery didn't end there. He also became an author, attained a second master's degree, and got ready to work again. But on an emotional and psychological level, his recovery faced several hurdles, not least the fact that it took him two years to recall his girlfriend, who died in the accident. Life was also very different to how it had been prior to the accident. It became, as he described it, a dark and deserted street, inhabited by strangers, where people look at you funny and you have an overwhelming sense of being lost.
Tear up the risk assessment
The message of his talk, "Follow the patient", the same title as the patient documentary film on which he is currently working, was very much a denunciation of "the paperwork, tick boxes and risk assessments" that can feel like extra obstacles to anyone who has suffered personal tragedy and is trying to recover. Conversely, his talk also served to champion the need to listen to and engage continuously with the patient in their care and treatment.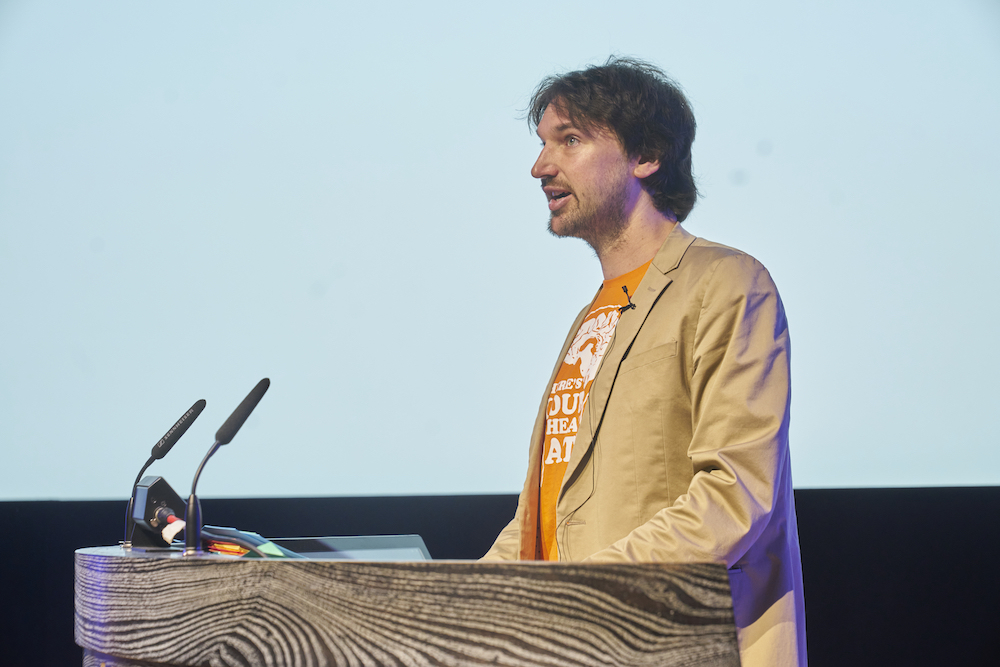 "Organisations that try to help through checks and balances are fine, but when we have to fight their processes while we're trying to get our lives back, something is wrong," said Clench. "The risk assessment said don't go back to Glastonbury, don't run a half-marathon, don't do a second masters. I did them all, even though the risk assessment said not to. All of these goals were important to me."
He recalled, too, that one of the first doctors who treated him in the Dominican Republic didn't let paperwork get in the way of his treatment. The doctor shared with his family one of the first principles he stood by and that was to always "follow the patient".
Clench explained: "The idea is we can never predict how far the organisation or individual will go in recovery after disaster. Why would we discourage them from having their own goals and taking action for themselves in their own recovery? The local voice and action must be championed, just as the patient voice must be championed in hospitals, rehab, and community-led services.
"If the worst happens to you and you survive, fight to be yourself again, so you can rebuild and discover a new you."
"A powerful testimony"
To help promote the patient voice agenda, Clench's documentary is seeking to showcase stories of brain injury survivors, their support networks, and family friends and professionals, to provide "a powerful testimony".
According to Clench, the grit and determination shown by patients to pull through following such severe injuries, and their willingness to engage to be heard, are inspiring. And in the case of medics, therapists, researchers, survivors, and support networks, their enthusiasm to share, he added, "has been all too evident".
"Personal resolve is so important," he continued, "together with the essential support networks around them to aid them to thrive. Can you have one without the other?"
Aligned to this is the learning element – how brain injury patients can negotiate a new career path as part of their recovery. This, stressed Clench, is essential for rehabilitation, as without such a focus on this part of their journey, there are heightened risks that they could end up among the prison population or homeless.
He told the audience: "I've become a new Ben, with different strengths, struggles and a different story. My ongoing aim in life is to work again and to contribute, so that my lived experience as a survivor can help others."
The 'Follow the patient' documentary film has launched a crowdfunding campaign to help cover production costs and other overheads. Contributions can be made via the following website: www.crowdfunder.co.uk/follow-the-patient-shortdoco while you can also follow progress on Twitter at @FTP_shortdoco