Charles Darwin's interpreted observation that it's neither the most intellectual nor the strongest of the species that survives but the species that is able best to adapt and adjust to the changing environment in which it finds itself was the final message of Royal College of Physicians' president Dr Andrew Goddard's keynote talk during the opening plenary of the 7th European Healthcare Design Congress.
Speaking about some of the major challenges in healthcare today, Dr Goddard took inspiration from former US Secretary of Defence Donald Rumsfeld in structuring his talk around known knowns, known unknowns, and unknown unknowns, but all through the visor of Covid-19.
The big challenges in healthcare as seen from the bedside and clinic
On the known challenges, he noted that there is "a lot of talk in the UK about waiting times for people with elective surgery, but it's the same for diagnostic waits and also for outpatient waits".
He went on: "Since 2002, emergency admissions have increased by 64 per cent, acute and general beds in that time have fallen by 26 per cent, and the only reason why we've been able to keep it all going is we've managed to reduce how long people stay in hospital."
With the ageing population, these trends are likely to accelerate, and the healthcare system will need to be ready.
Obesity prevalence among men and women in England is also rising inextricably and Dr Goddard reflected how "Covid has shown that obesity affects your outcome from particular diseases. Unless we think of ways through public health and government policy to manage this, it's going to continue to cause a problem."
He also noted how Covid has shone a bright light on health inequalities. "What we've seen is that Covid killed and affected more people from the poorer parts of our society than anybody else," he said. "And it was partly to do with living conditions and exposure, and pre-existing health, but also to do with ethnicity. If we don't look at the parts of our society and we adjust our healthcare design in order to fit those parts of society, we will not meet that challenge."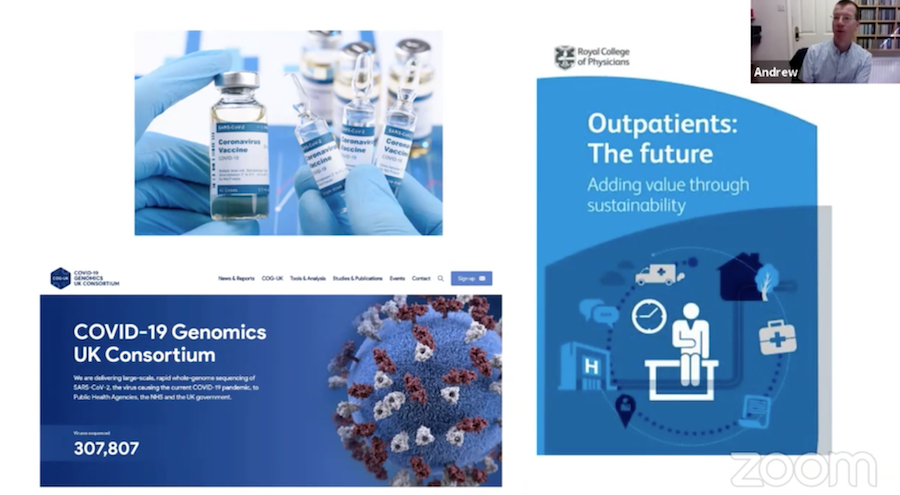 And at the bedside and in the clinic, the biggest issue for Dr Goddard is the workforce. Not only has the NHS become less and less able to appoint consultants but the demographic of the workforce is changing rapidly, with more females entering the profession and medical school. Stressing the major positives of this trend, Dr Goddard also noted that female consultants may be more likely to work less than full time, so the healthcare system will need to plan for how a changing workforce wish to work in future to avoid running into difficulties.
"The things that make people happy at work are pretty clear: workload, teamwork, quality of education, and flexibility," he said. "What keeps us happy are autonomy, belonging and competence."
He added: "Unless we increase the number of medical students now – that increase in admissions, that increase in ageing population, that increase in people working less than full time – if we don't plan now, in 15 years' time it will be a disaster."
Commenting on the known unknowns, he noted that technology can make life harder if there are lots of different systems that don't always work. But he also recognised that as time passes, "how we as humans interact digitally with our systems will be critical to how healthcare is delivered".
When considering the digital and genomic revolutions taking place, Dr Goddard described these as the dawn of a new era that everyone is both excited and frightened by, and what we do with all this information will need careful consideration.
And another known unknown concerns what he likens to the Four horsemen of the Apocalypse – antimicrobial resistance, climate change, politics and pandemics.
Finally, he explored some of the unknown unknowns, including the uncertainty around future Covid-19 variants and the mixed picture of vaccination success currently across the globe, as well as issues around outpatients and virtual consultations. He referred to a pre-pandemic RCP report, in which he stated there was a need for 30 per cent of consultations to be virtual in future, and how he had been "lambasted" for arriving at this target.
"Yet along comes Covid and, immediately, 50 to 70 per cent of outpatient consultations are done virtually," he said. "So, when you hit a big challenge, the system responds, and you can do things you really want to do."
It's this ability to adapt, as Darwin suggests, that will be vital for the future of healthcare delivery not just because of the pandemic but the many other trends that have been exerting increasing pressure on the system in recent years.
"If you can't adapt you will die – and that's true for healthcare," Dr Goddard declared.
Environmentally sustainable healthcare: now is the time for action
One of the external pressures – the climate crisis and its effects – was the key focus of Prof Tony Capon's keynote talk. As director of the Sustainable Development Institute at Monash University, Prof Capon explored how to deliver environmentally sustainable healthcare. Reminding everyone how just prior to the pandemic hitting, the world was focusing on the bush fires in Australia, he said: "It's important to remember that these bush fires, not just in Australia but in the Americas and elsewhere, and the pandemic are symptoms of the Anthropocene [the current period in Earth's history when human activity has started to have a significant impact on the planet's climate and ecosystems]."
The need to transition from a highly wasteful economic model to an economic model where focus is on repair, reuse and recycling presents a huge challenge and opportunity for healthcare around the world, argued Prof Capon. And it's not enough to just focus on carbon emissions in relation to sustainable healthcare.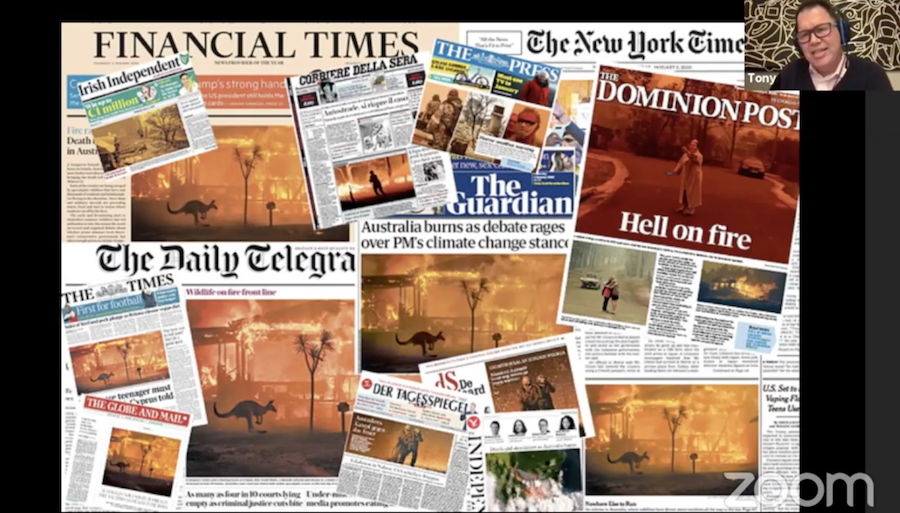 "We can't be taken seriously on these issues if we don't get our own house in order," he said. "Design is critical for that. And we need to bring human ecology to the table as a way of understanding health, alongside epidemiology, research, education, policy and practice."
Indeed, when seeing humans as a component of the system of nature, rather than apart from it, sustainable healthcare needs to consider issues beyond the health of people and look to introduce measures that help take care of the planet. This integrative approach, noted Prof Capon, is aligned to Stephen Boyden's Biosensitivity Triangle concept, which illustrates the importance of co-benefits, and these issues are particularly important when thinking about the pandemic.
He acknowledged that we're spending a lot of time and money to try to suppress Covid-19 but he stressed, too, that "it's important we don't become fearful of all microorganisms and that we value microbiological diversity as part of living systems on Earth".
Ending his talk with a list of priority actions to make healthcare fully sustainable, Prof Capon emphasised that leadership – in particular, clinician leadership – is critical at all levels, and to deliver through structural and cultural change inside healthcare systems. Secondly, he noted the importance of measuring and monitoring key indicators of healthcare sustainability alongside economic and social indicators. Thirdly, he underlined the need to integrate sustainability into health service planning and accreditation standards. Fourthly, the documentation and sharing of best practice in sustainable healthcare should be a focus. And fifthly, building capacity through in-service and pre-service training is necessary to influence not only the next generation of clinicians coming through but those in decision-making positions today.
The road to COP26: Regenerative architecture for healthcare
Sunand Prasad, principal of Penoyre & Prasad and chair of the UK Green Building Council (UKGBC), took up the baton on sustainable healthcare by exploring the notion of regenerative architecture, setting it in the context of the upcoming UN Climate Change Conference, COP26, in Glasgow in November.
Noting that temperatures last year were 1.2OC above pre-industrial temperatures already and rising at about 0.2OC per decade, Prasad said that the UKGBC had been thinking about what success would look like for the world, the UK, and the built environment industry, to best direct its efforts. Three issues, he concluded, were apparent.
Firstly, nationally determined contributions that can give confidence in the world's ability to keep global warming to under 2OC; secondly, credibility that these pledges can be delivered; and thirdly, a wide and shared realisation that while action to resolve climate imbalance is about survival of species and civilization as we know it, we should frame it around human flourishing.
The measures that will reduce the risk of catastrophic climate change will also improve our quality of life and state of our health, contended Prasad, but while the UK Government has set ambitious carbon-cutting emissions targets for 2035, on the road to net-zero by the middle of the century, there is no credible plan yet for getting there – no package of regulations, incentives or finance. Thankfully, the NHS has made what Prasad called "a great start" to developing a credible plan, not least with the publication last year of the blueprint document, 'Delivering a net-zero NHS', which sets out a proper systems-level plan for a reduction in emissions across the NHS, tackling direct and indirect emissions, including those through the wider healthcare supply chain.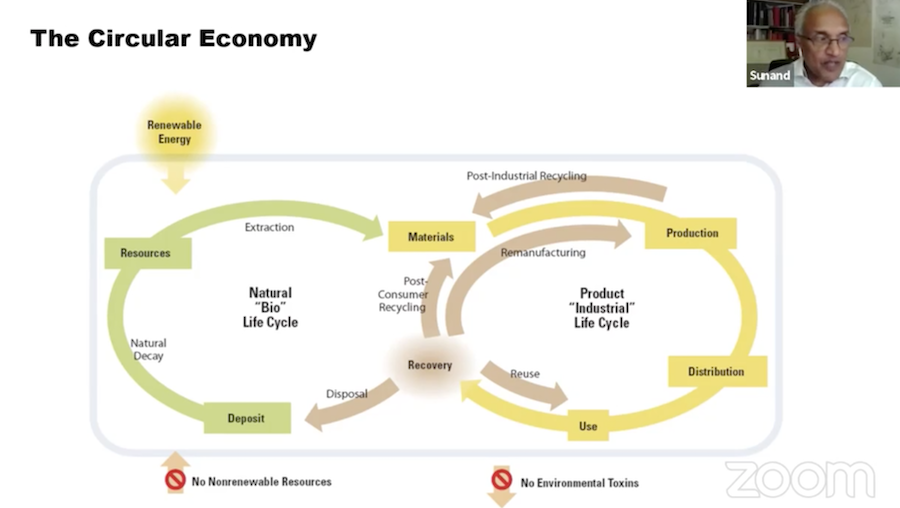 Buildings and energy comprise around 10 per cent of total NHS emissions, said Prasad, who added: "Acute hospitals generate a significant proportion of emissions, and retrofit interventions – upgrading buildings and optimising building usage – can have a large impact. There is about 25,000,000 sqm of NHS estate that we have to retrofit in the next 14 years. But there's a £10m backlog at the moment and we're not keeping pace."
Prasad highlighted a report by independent construction and property consultancy
Gardiner & Theobald, which suggests that while refurbishment targeting net zero will cost 2.5 times more in capital terms, the extra cost is erased in 20 years through energy savings and other reductions.
"But at the moment the capital spend limits don't allow that," said Prasad. "So, we have a national carbon budget that requires a significant increase in investment, whereas capital spend limits don't allow for the estate to be maintained in an acceptable state."
He continued: "Retrofit doesn't just mean upgrading buildings for energy efficiency. The greatest thing we can do is to build as little new as possible and to design with ingenuity to reuse, repurpose and recycle existing estate – whole systems and institutional design as much as physical design. That is true regenerative thinking. Of course, we will need to build a significant amount of new, and for that, too, we will need to build in a regenerative way."
The UKGBC and other bodies are currently working with the NHS to publish another path-guiding document, which promises to give clear, practical guidance on achieving net zero in healthcare – and it's hoped this document will be available by autumn.
A number of things would help deliver this mission, Prasad pointed out, including: credibility, transparency and honesty; becoming more climate literate and alert to greenwashing; finding out the energy use of existing buildings at a granular level; becoming literate on the energy performance of buildings; and addressing issues around embodied carbon.
In summary, Prasad underlined that the biological cycle will look after itself if we properly maintain it – but it's the industrial cycle where attention should be directed.
"The word 'regenerative' is the idea that you leave things better than you find them – socially, environmentally and economically," he argued. "It's only by doing this that we can fully realise that we can have a much better world in which we can flourish and not just deal with an emergency.
"I think it's in our DNA, and we might be very good at it."