We're delighted to announce that we have extended our Early Bird deadline on tickets for the 7th European Healthcare Design 2021 Congress & Exhibition until 2 June.
Please access the virtual event site for ticket options and click here to view the Programme. And watch our short promo video on why you should attend.
Creative destruction
The Congress itself will now take place virtually on 14-17 June 2021. And after a year like no other, the plenary theme for the 2021 congress is 'Creative destruction: Design innovation in the face of existential threats'. Other congress themes include: Climate-smart healthcare; Science, technology and innovation; Intersection of clinical medicine and design; UK health infrastructure; Art and architecture; Population health and health systems; Health planning; Intelligent hospital design and innovation; and the COVID-19 Global Summit: Pandemic preparedness.
The Congress is dedicated to the global exchange of knowledge on the relationship between research, practice and policy in the design of health systems, services, technology and infrastructure. With over 200 speakers, keynotes, panel discussions, workshops, posters, videos and more besides, European Healthcare Design 2021 is the world's leading forum for exchange of research findings, best practice and policy thinking on the design of health systems, services and infrastructure.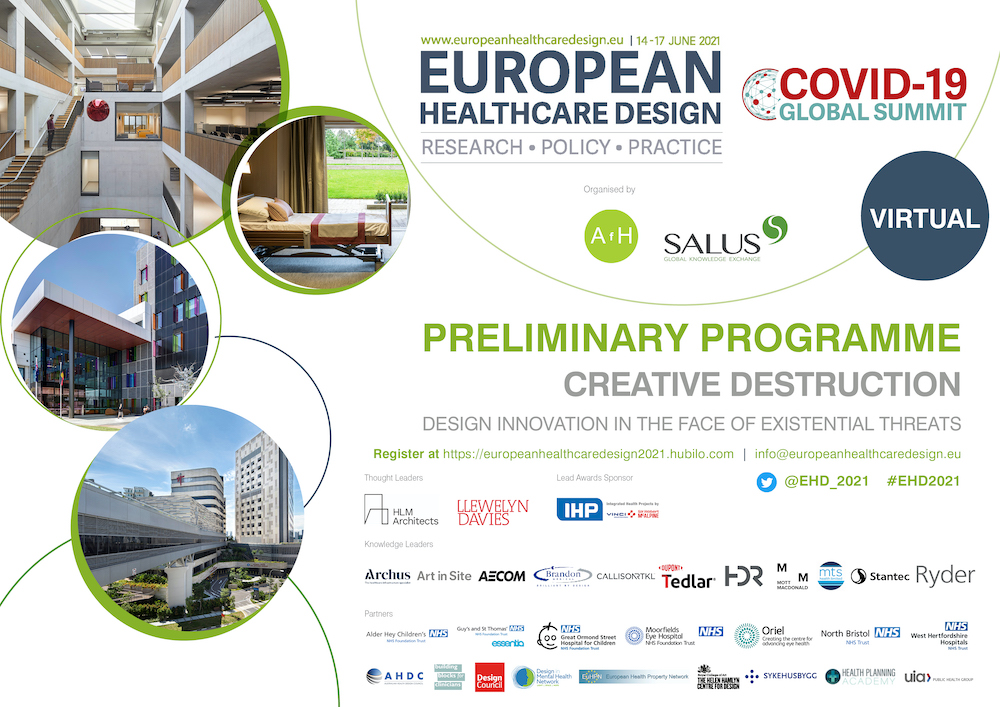 As well as virtual networking, delegates will enjoy professional development opportunities, building knowledge of the socio-economic global context, and emerging practice, skills and core competencies in designing and commissioning health services, technology and infrastructure, project management, and the evidence base for healthcare design, sustainable development and quality improvement.

COVID-19 Global Summit
As the existential shock of the pandemic and continuing threat to life and livelihoods reverberates through societies, international health systems are adapting and reshaping at speed. But while vaccines bring hope that the Covid-19 pandemic can eventually be controlled, many health systems are still in the midst of the crisis. Moreover, the direct and indirect impacts on physical and mental health will be felt for years to come.
In response to the continuing crisis, the European Healthcare Design 2021 Congress will again incorporate the COVID-19 Global Summit. This fully integrated 'conference within a conference', brings global knowledge and learning together from the pandemic response, preparedness and impact.
Delegate registration
Registered participants will receive virtual access to both 'live' streaming and video recordings of all sessions for 'on-demand' viewing for one month after the event. During the congress, participants are encouraged to make the most of the many engagement features on the event platform. These include creating your own personal profile, connecting via live chat, instant messaging, arranging 1-2-1 video meetings, and networking in the lounge rooms. And join us on 17 June to celebrate design excellence in the healthcare environment at the EHD2021 Awards Ceremony.
A range of tickets are available, giving attendees from all over the world great value for money. Delegate registration is open now with Early Bird savings for individual and group bookings until 2 June.
Members of Architects for Health, the Union of International Architects – Public Health Group, Australian Health Design Council, New Zealand Health Design Council, Design in Mental Health Network and the European Health Property Network are entitled to discounted rates. Please apply for your discount code by emailing info@europeanhealthcaredesign.eu. Full details can be found on page 22 of the Programme.
Virtual format and event features
European Healthcare Design 2021 features four days of insightful, provocative and entertaining talks, workshops and panel discussions.
Days one and two (14 and 15 June) will open with keynote plenary sessions, before splitting into three streams (12 in total). A keynote plenary will also begin the two-day COVID-19 Global Summit – a conference within a conference – which runs on days three and four (16 and 17 June).

The final session of day four (17 June) will be devoted to a virtual ceremony to present the European Healthcare Design Awards 2021, supported by lead sponsor IHP.
The Congress will also host a poster gallery of innovative research and design projects, an Awards Poster + Video Gallery, an Innovation Zone showcasing the latest design and technology solutions, and Innovation Zone seminar sessions.
In addition, there will be many opportunities to network, video chat and message live with other delegates, speakers and exhibitors online; create your own personal profile; download informative documents; organise virtual meetings, and take part in competitions. More details can be found on page 18 of the Programme.
We look forward to your participation in the 7th European Healthcare Design Congress and the COVID-19 Global Summit, 14-17 June, 2021