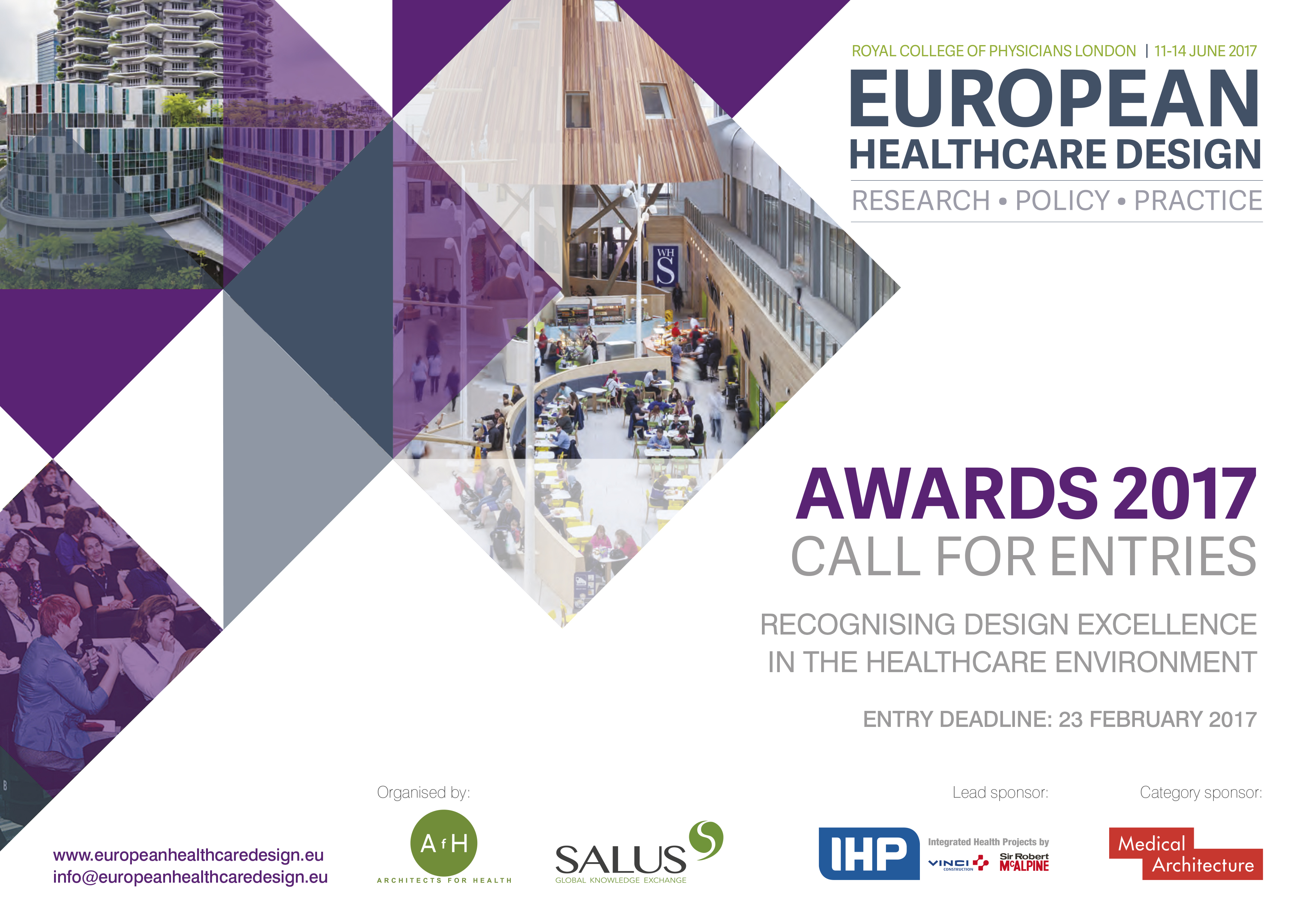 The deadline for submissions to the European Healthcare Design Awards 2017 has been extended until Friday 10 March, following huge demand.

Organised by Architects for Health and SALUS Global Knowledge Exchange, the Awards celebrate excellence in the design of healthcare environments in Europe and around the world. They aim to have a significant influence on the creation of environments that promote health and wellbeing, embed quality improvement, and support the delivery of care in an accessible, economic and equitable way. Download the Awards 2017 Call for Entries and the Awards Submission Criteria.

There are 10 categories including, among others: Healthcare Design (Over 25,000 sqm); Healthcare Design (Under 25,000 sqm); Mental Health Design; and Interior Design and Arts. Entries can now be submitted until 10 March via the online form on the EHD2017 website.

Huge thanks to our Awards Lead Sponsor Integrated Health Projects (right), a joint venture by Vinci Construction and Sir Robert McAlpine, and category sponsor Medical Architecture for their support.



Sponsorship/exhibition opportunities for the Awards and the European Healthcare Design 2017 Congress and Exhibition are still available. Please refer to the Congress sponsorship and exhibitor guide and the Awards sponsorship guide for more information.

Last year's event

The first European Healthcare Design Awards were held last year, with a ceremony on 28 June to concude the European Healthcare Design Congress 2016.
The shortlist (published in full below) comprised organisations and project teams in the running for 10 awards across primary, community, secondary and tertiary levels of international healthcare provision and delivery.
In addition, a special individual honour, the Design Champion award, was presented to David Powell, development director for Alder Hey in the Park. David (pictured, centre, with Alan Kondys from 2016 Awards sponsor Vinci, and judge Chris Shaw, chair of Architects for Health) was recognised for his role in overseeing the project that saw Alder Hey move into a new, purpose-built hospital in October 2015.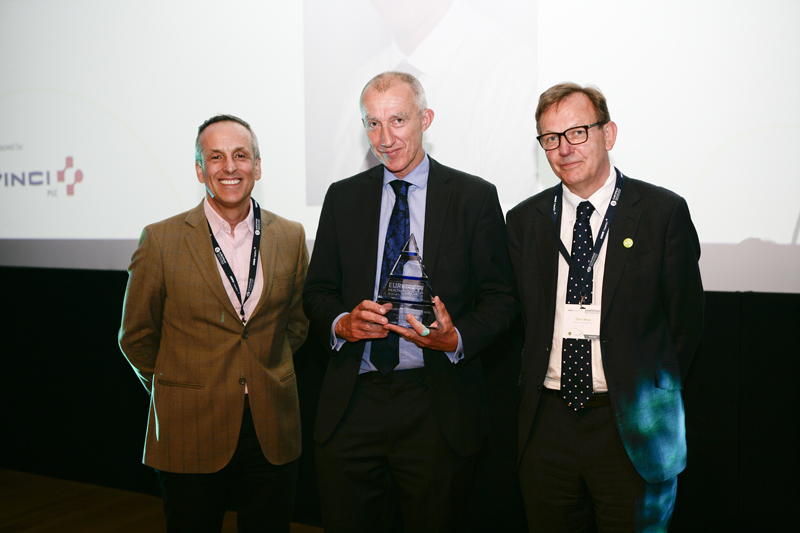 Full shortlist and judging process
The awards evaluation committee features international researchers, practitioners and policy advisors, who bring specialist multidisciplinary expertise to the specific categories they have been invited to judge.
The shortlist and winner of each award are determined by a category chair, supported by two other judges with proven expertise in their field. This robust evaluation methodology ensures a balanced and transparent decision-making process.
The full shortlist of the 2016 Award winners and those highly commended is set out below:
Healthcare Design (Over 25,000 sqm)
Winner: Alder Hey Children's Hospital
Commissioned by Alder Hey Children's NHS Foundation Trust
Designed by BDP
Civil and structural engineering by WSP | Parsons Brinckerhoff
Environmental engineering by Hoare Lea
------
Highly commended: Akershus University Hospital
Commissioned by Helse Sør-Øst RHF
Designed by C.F. Møller Architects
------
Highly commended: Ng Teng Fong General Hospital and Jurong Community Hospital
Commissioned by Ministry of Health, Singapore, and Jurong Health Services
Designed by CPG Consultants in collaboration with HOK and Studio 505
Judges: Simona Agger, European Health Property Network, Italy; Trisha Down, Southmead Hospital, UK; Diana Anderson, Stantec, USA

Healthcare Design (Under 25,000 sqm)
Winner: New QEII Hospital
Commissioned by NHS Hertfordshire
Procured and delivered by Assemble Community Partnership (NHS LIFT)
Designed by Penoyre & Prasad
------
Highly commended: Banbridge Health and Care Centre
Commissioned by Southern Health and Social Care Trust
Designed by Avanti Architects with Kennedy FitzGerald Architects
------
Highly commended: Jim Pattison Outpatient Care and Surgery Centre
Commissioned by Fraser Health Authority
Designed by Kasian Architecture, Interior Design and Planning
------
Highly commended: Mother-Child and Surgical Centre, SZX Kaiser-Franz-Josef-Hospital, Vienna
Commissioned by City of Vienna
Designed by Nickl & Partner Architekten AG
Judges: Marte Lauvsnes, Norwegian Hospital Construction Agency, Norway; Ganesh Suntharalingam, London North West Healthcare NHS Trust, UK; Charlotte Ruben, White arkitekter, Sweden

NHS Healthcare Design
Winner: St Bartholomew's Hospital
Commissioned by Barts Health NHS Trust
Built by Skanska and designed by HOK
------
Highly commended: Alder Hey Children's Hospital
Commissioned by Alder Hey Children's NHS Foundation Trust
Designed by BDP
Civil and structural engineering by WSP | Parsons Brinckerhoff
Environmental engineering by Hoare Lea
Judges: Beatrice Fraenkel, Merseycare NHS Foundation Trust, UK; Duane Passman, Brighton & Sussex University Hospitals NHS Trust; Karin Imoberdorf, Lead Consultants, Switzerland

Mental Health Design
Winner: Old See House
Commissioned by Belfast Health and Social Care Trust
Designed by RPP Architects with Richard Murphy Architects
------
Highly commended: Aabenraa Psychiatric Hospital
Commissioned by Region of Southern Denmark
Designed by White arkitekter
------
Highly commended: Clock View Hospital
Commissioned by Liverpool & Sefton Health Partnership for Mersey Care NHS Trust
Designed by Medical Architecture
------
Highly commended: Vallei project Arkin Clinics
Commissioned by Arkin
Designed by D/DOCK
Judges: Alice Liang, Montgomery Sisam, Canada; Warren Kerr, Hames Sharley, Australia; Justin De Syllas, Avanti Architects, UK

Design for Conversion or Infill
Winner: East Wing Recladding at St Thomas' Hospital
Commissioned by Essentia, Guy's and St Thomas' NHS Foundation Trust
Designed by Hopkins Architects
------
Highly commended: St Pancras Public Mortuary
Commissioned by London Borough of Camden
Designed by Paul Murphy Architects
Judges: Jim Chapman, client advisor, UK; John Jenner, consultant, UK; Jane McElroy, NBBJ, UK

Design for Health and Wellness
Winner: Wanarn Clinic
Commissioned by Ngaanyatjarra Health Service
Designed by Kaunitz Yeung Architecture
------
Highly commended: Carefirst One-Stop Multi-Services Centre
Commissioned by Carefirst Seniors & Community Services Association
Designed by Montgomery Sisam Architects
Judges: Dr Liz Paslawsky, SALUS Global Knowledge Exchange, Australia; Chris Shaw, Medical Architecture, UK; Helina Kotilainen, Finland

Interior Design and Arts
Winner: New QEII Hospital
Commissioned by NHS Hertfordshire
Procured and delivered by Assemble Community Partnership (NHS LIFT)
Designed by Penoyre & Prasad with Art in Site
------
Highly commended: Alder Hey Children's Hospital
Commissioned by Alder Hey Children's NHS Foundation Trust
Designed by BDP
------
Highly commended: A co-ordinated approach to art and interior design at Thames Lodge Medium Secure Unit
Commissioned by West London Mental Health NHS Trust
Produced by Willis Newson working artists Alison Milner, Ali Brown and Sue Mayfield, and David Morley Architects
Judges: Susan Francis, Architects for Health, UK; Pamela Bate, Hopkins Architects, UK; Victoria Jones, consultant, Australia

Future Healthcare Design
Winner: Shanghai International Hospital
Commissioned by Parkway Health
Designed by HOK
------
Highly commended: The Al Maha Center for Children and Young Adults
Commissioned by Hamad Medical Corporation
Designed by HDR | Rice Daubney
------
Highly commended: National Center for Cancer Care and Research
Commissioned by Hamad Medical Corporation
Designed by Stantec
Judges: Bas Molenaar, Netherlands; John Cole, client advisor, Northern Ireland; Celeste Alvaro, Canada

Design Research
Winner: Clinic 20XX: Designing for an ever-changing present
Authored by Upali Nanda PhD, and team
Center for Advanced Design Research & Evaluation, HKS
------
Highly commended: Assessing the value of design: the Bridgepoint Hospital post-occupancy evaluation
Authored by Celeste Alvaro, Deyan Kostovski and Andrea Wilkinson
------
Highly commended: Design matters for nurses
Authored by Dr Lucio Naccarella, University of Melbourne and Prof James Buchan, Queen Margaret University, Edinburgh
Research partner: HASSELL
Funded by HASSELL and Australian Commonwealth Department
Judges: Dr Ruzica Bozovic Stamenovic, University of Belgrade, Serbia; Dr Linda Jones, Massey University, New Zealand

Design Innovation for Quality Improvement
Winner: Axis Flo-Motion for Alder Hey Children's Hospital
Designed by Axis Automatic Entrance Systems and BDP
------
Highly commended: Ava Recliner
Designed by 5d Studio
Developed by Nemschoff
Judges: Dr Eve Edelstein, Perkins + Will, USA; Colum Lowe, Being Design, UK; Christine Chadwick, GE Healthcare, Canada